The Carrera 1887 Jack Heuer: "You can wear them around without raising eyebrows."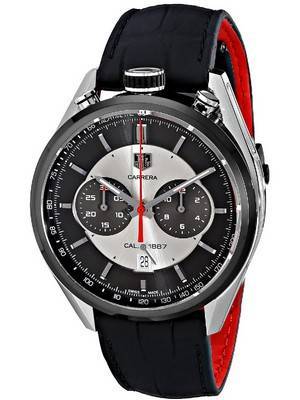 Q. Dear Gonzo,
I am looking for an exclusive timepiece for which I'm not going to mind even a few thousand dollars. I am in need of your suggestions. My existing collection features watches from $300 to $2000, so this time, I don't mind throwing in a bit more. Say, about 5K?
Don't think I'm a budding horological enthusiast; I just love watches and find sort of a juvenile pleasure in wearing them. But well, this time I want to grow up and sport something that's not going to show up on another wrist; well, maybe not too many wrists.
I'm a big fan of automatic chronographs, so a piece that commands more respect than others would be really nice. Which one is going to keep me satiated, maybe for another couple of years? I'm eyeing the entire TAG collection of recent, so it shall be really nice if you can pick one out for me. Or, do you have something else in mind? In that case, please speak up and I shall be glad to follow the path you recommend.
Gonzo grunts:
At this point, I'll stick to your choice and shall only point at staying within your jurisdiction. Your choice of the TAG is perfect; I too prefer it as my go-to brand. I find their styles impeccable, their accuracy spot-on and their build, long lasting. And the best part is, you can wear them around without raising eyebrows. If you are careful about perceiving a good wristwatch, the TAG, at your price point, is the best way to go.
Go for any of the Carrera-s. High quality, at a relatively high cost is not always a bad thing, especially when you got the budget and don't want to be labelled as the Holy Dalai Lama of the nouveau riche class. They don't show-off your cash.  Absolutely flawless, the only gripe is you'll have a hard time deciding between them.
But hey, if you got a full 5K to spend, why would you like to settle for the moon when you can actually land the star? I mean the TAG Heuer Carrera 1887 Jack Heuer Edition. Based on the TAG Mikrogirder, it's their mainstream version of the concept and marks Carrera's 50th anniversary. It's creatively conservative yet nothing short of boldness and is a true reflection of the brand's long term heritage and obsession with timing concepts and stopwatch mechanism. It is different in every aspect, including the crown and pusher positions. The Bullhead is not a very common thing to come by, so if you got the dosh, just plunge for it. Enough of classical approaches, just take a braver route. You'll be glad to see it pay off.
Watch(es) mentioned in this post are listed below.  Click to see details and buy them: