It's been almost four years since this quartz version of the Seiko Tuna made its mark. It underwent a significant facelift among other aesthetic changes, which chiefly shows on its dial and its hands. But the previous version of Tuna grew on us big time and everyone but some didn't quite welcome this drastic redesign. Opinions varied and mostly, were highly polarized – especially, about its high-torque quartz movement. Many argued if the minutes-hand was long enough to require the 7-jeweled, Seiko cal. 7C46 (high-torque movement) is needed to drive longer hands though appreciation was otherwise high for this extremely reliable and very, very ruggedly built movement built entirely with metal components. Moreover, it has thermal insulation, which is to handle the extreme conditions of deep-saturation diving. It requires a battery replacement every five years and there's an end-of-life indicator (a tick every two seconds) to tell you when the time has come.
The new aesthetic direction – whether good or bad – is entirely a matter of personal taste but speaking impartially, it has got its own merits. The new Tuna has a graphic appearance; it's large, bold and with a super-high legibility. Along with that, it shows quite a few functional updates of which, the Diashield coating and LumiBrite luminous compound are the most worthwhile.
At 48mm across the case and around 15 mm thick, its short lugs bring it an effective lug-to-lug length that makes this BIG watch highly wearable for a varied range of wrist sizes. In fact, if your wrist is not unnaturally thin, there's no reason the new Tuna is not going to fit.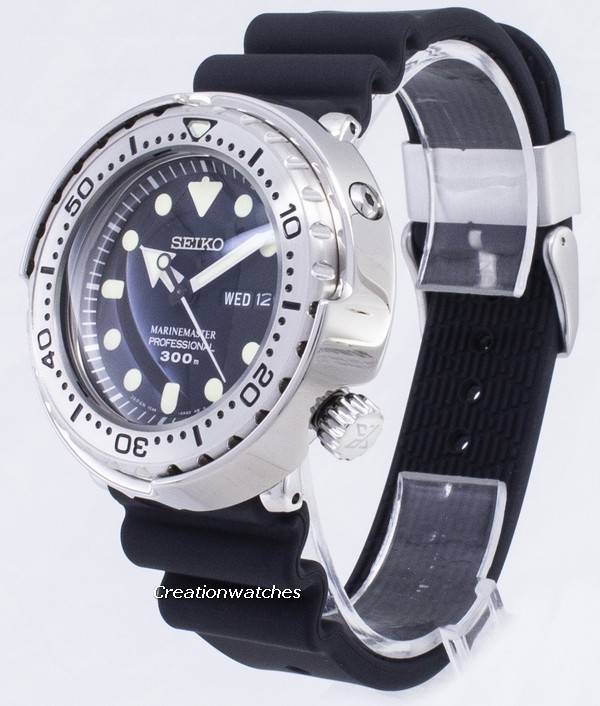 The shroud and the bezel of the Tuna are major reasons why this Tuna doesn't look ill-sized like a dinner plate despite not being subtle at all! Its proportions are right on the money. The shroud is a great mode of protection to the case and the bezel, the latter offering an easier grip and operation. The shroud bears a brushed finish which translates into a minimal shine to keep up with the tool-watch ethos. The polished hex screws add the necessary contrast.
The unidirectional bezel with a smooth ratcheting system is a total joy to operate! The upside-down triangular pit is deep-set and filled with luminous paint, shielded with a small Hardlex piece to ensure water doesn't wash it away. The large teeth around the bezel's circumference offers an easier grip even while wet.
The Hardlex crystal is double-domed to magnify the dial's content while the offset crown (@ 4'o clock) is Seiko's signature design. The crown is large, tactile and with an excellent machining; also offering a better grip. However, since the Tuna is now a member of the Prospex family, it bears the Prospex 'X' logo that replaces the previous 'S'.
Being a diver, the lume compound charges real fast and glows bright green; close to nuclear radiance and stands out against the black dial and its silver-print hour and minute markers. Lume nuts may rejoice!
Final verdict:
This fantastic solid evolution is a simple and effective piece built the way a tool watch should be. It's solid as a rock and makes for the perfect summer watch.
Watch(es) discussed in this post are listed below.  Click to see details and buy them: