The Citizen Watches is a very well-know strong brand. Citizen watches have created a unique personal identity in the timekeeping industry with their faultless and impeccable watches for women's and men's. Citizen timepieces are ideal choice of innumerable perfectionist and aficionados. Citizen watches have revolutionary origination of Eco drive technology. Citizens are famous for their world leading Eco drive movement, which allow the watch to be powered by sunlight (artificial light and sunlight). That means using this technology the light enters the watch through the watch face. After enter the light in to a watch the battery is rechargeable which can hold its charge for number of months.
A watch is always a great gift to give someone. The concept of the Eco drive introduced several major technical cultures and refinements over previous solar powered watches. This Eco drive movement was the first light powered movement where the solar panel could be mounted under the dial. Previous light powered timepieces form citizen and other manufacturers had a solar cells mounted directly on the dial. Eco drive watches used a logical or secondary battery. Ecodrive Watch has an ability to increase the store energy as compared to previous light powered watches. In Eco drive technology, it has an insufficient recharging warning feature. In this Eco drive watch, the battery provides the timepiece to store the energy till it does not have enough energy from the solar cells to power the movement. At this point, it moves to the energy hold and substitutes without cutting and passing over a beat or losing any time. Citizen Eco drive watches are also known as Eco friendly timepiece.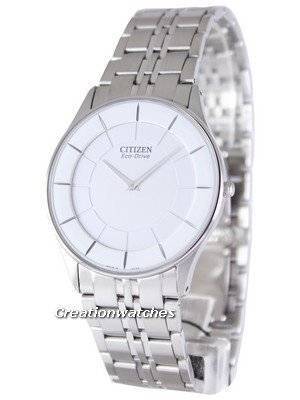 The advantage of citizen Eco drive movement is that they never need a battery. Since they have a no problem to replace and change the battery. In citizen Eco drive technology, the timepiece is charge by the power of light-from any artificial light source and natural light. Natural and artificial lights are intent and occupied through dial and crystal glass. And then the solar cell converts the artificial light and natural light in to energy. In approximately 5 year (depending on model) and also even in the dark place, this citizen Eco drive's revolutionary Eco drive energy cell stores a large amount of energy to power the watch. In citizen watches also has a feature of low charge warning function. Using this function we alert time to time if the charge of the watch is less. In Citizen Eco Drive Watch also has feature of quick start function that means the watch starts up seconds after exposure to light.