CASIO WATCHES are known for their ability to do more technologically advanced activities than just timekeeping. Casio's belief is Creativity and Contribution which is portrayed through their vast amount of technologically advanced products. Casio has shown to the world that watches can be useful for getting information as well. These watches are known for their looks as well as their purpose. Casio has developed watches which can capture, maintain and exhibit an assortment of data, including images, temperature, longitude and the result the new invention step tracker models furnishes sporty watches are the latest additions to the GMA-S130VC-2A S Series of timepieces that feature eye catching colors and sizes that don't sacrifice G-SHOCK styling. Starting from a sports concept, these models are packed with advanced functions that are suitable for the woman of today. Casio G-Shock GMA-S130VC-2A counts steps while offering a representing a current popular styled and fashionable fit for daily use. Featuring a three-axis acceleration sensor, the watch starts counting steps automatically.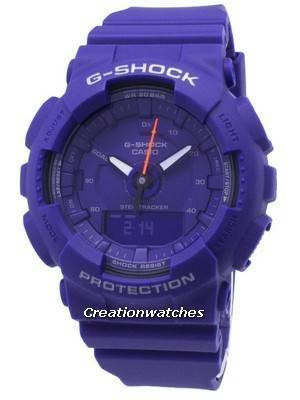 The Casio Illuminator Step Tracker and a multi-functional second hand watch that performs various operations to support other watch functions. Features that support well-planned daily health management are an indication of your progress towards a step target, graphic indication of the number of steps Step Count Using 3-Axis Acceleration Sensor, and more. A Step Reminder feature uses an indicator and an audible alert to let you know when you have not walked enough within a specific period. Step count history is easily displayed and goal progress can be checked with the press of a button. Other functions include memory for 30 lap times, shifting of hands away from the digital display when reading information there, high-brightness double LED illumination that is great for night running, and much more.
Casio G-Shock S Series GMA-S130VC-2A GMAS130VC-2A Illuminator Step Tracker Analog Digital with new colors for the G-SHOCK S-Series lineup. Base model is the GMA-S130VC-2A, and the subdued case colors of this new model are accented by blue color. The index, and the hour and minute hands of the GMA-S130VC-2A are done in blue. The result is color combinations that go great with today's athleisure fashions and other wear. It incorporates lots of functions in a rugged shock-resistant resin case all strapped up by a comfortable resin band. As its main features, you get Double LED Light, A twist of the wrist in Hand Shift Feature. The Shock-resistant construction of the watch protects against impact and vibration. The watch contains Quartz Movement, Mineral Crystal and Analog Digital Display which makes watch more beautiful. The World Time Function displays the current time in major cities and specific areas around the world with 31 Time Zones. The Stopwatch Function – 1/100 Sec. – 1 Hour elapsed time, split time and final time are measured with 1/100-sec accuracy. The watch can serve 5 Daily Alarms. The watch also has Hourly Time Signal which makes more user friendly watch.
So it's all are very comfortable to use. It comes with advanced features to suit the demands and needs of adventurous types of women. This watch looks like bold watch. With the help of so many advantages in this watch, it is more in demand for youth.