The history of Seiko is the story of innovation. Thanks to a continuous stream of industry-leading innovations over the decades, Seiko established and has maintained its position as a world leader in the technology of time. Seiko set the global standard, and today, most Chronograph watches use the system Seiko developed. Seiko provides a Joy and pride about owning a Seiko watch and additionally a little the charm.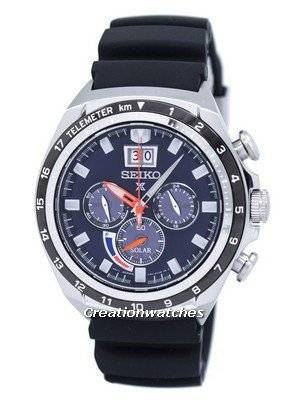 For those of you who have an adventurous spirit both in the sea, mountains and air. Seiko Prospex Sports Solar Chronograph Power Reserve SSC605 SSC605P1 SSC605P Men's Watch is specifically designed to accompany you perform extreme adventures. One of the distinctive clock Seiko productions is able to combine elements of high technology with the traditional skills of the craftsmen. Seiko Prospex Sports offered to the specification for a professional in the field.
A relatively inexpensive Seiko men's watch that introduces you to the grand scheme of things, an impeccable finish and machining, it's a Sports Solar Chronograph Power Reserve that looks excellent with heavy, casual clothing also. The watch has Stainless Steel Case fastened with Silicon/Rubber Strap. The Solar movement watch has V194 calibre. The Blue Dial of watch protected with Sapphire Crystal. The watch has Power Reserve and Chronograph Function. These features makes watch different from other watches. The watch having Luminous Hands and Markers with Date Display. The watch also has Telemeter Scale with Buckle Clasp and water resistance is 100 M.
Where classicism and modernity meet, drawing inspiration from the world of architecture to create a dress watch that embraces the very latest technology and design. The watch is a Classic inspiration with a hint of Modern expression.