The Seiko brand has been synonymous with precision watch engineering since over a century, with a series of first including the first production quartz watch, quartz chronograph and kinetic watches. Seiko today produces a range of accurate, stylish watches for every occasion, maintaining the original reputation for excellence and reliability. In fact, the accuracy of Seiko has led to the brand being the official timekeepers for various professional. The Seiko timepiece collection features the iconic logo across a multitude of designs, from chunky masculine watches to futuristic technological designs to sparkling fashion pieces and much more.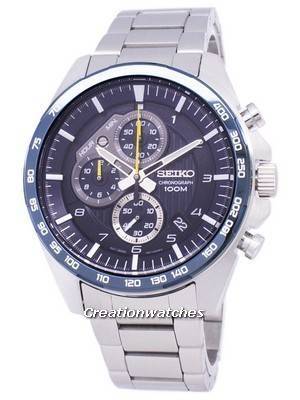 In Seiko's long-held tradition of incorporating new innovations into their wristwatch designs, Seiko is known for style and precision, with world renowned wristwatch collections comprised of a diverse. Seiko Motosportz set a new standard in accessibly priced mechanical watches with its innovative combination of a Quartz Movement, its uniqueness was evident also in the case design, Rugged, dependable and unique, Seiko Motosportz instantly made its mark, and began a tradition that is now half a century old, and is still growing. Seiko Motosportz designs have always been bold. By taking the unique graphic designs and dramatic colours of past creations, this new model pays homage to the original designs of Seiko.
This Seiko Motosportz Chronograph Quartz SSB321 SSB321P1 SSB321P Men's Watch features a Seiko calibre 8T67 with Quartz Movement. The Blue/Black Dial protected with Hardlex Crystal. The watch has Luminous Hands and Chronograph Function. The Analog Display with Date Display make watch user friendly. The watch having a Stainless Steel Case fastened with Stainless Steel Bracelet along with Solid Case Back as well as Deployment Clasp. The water resistance is 100 MM.
Bold designs that speak volumes about those who dare to wear the Seiko Motosportz. The inspiration lies in the designs and dramatic colours that come together with an innovative quartz movement that defines the very spirit of a Seiko Motosportz. For a watch that guarantees accuracy for everyday use to a gorgeous yet practical occasion accessory, Seiko's attractive designs will complete your look no matter what your personal taste or style.