The history of Seiko is the story of innovation. Thanks to a continuous stream of industry-leading innovations over the decades, Seiko established and has maintained its position as a world leader in the technology of time. Seiko is a world leader in watchmaking technology, being the only watchmaking manufacturer capable of producing all the components of a watch. This centennial brand is visionary, having been its constant search and innovation that allowed launching in the market the main technologies that have marked the evolution of the watchmaking world history.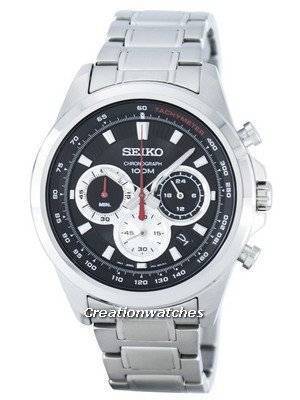 A watch that goes with time and offers every luxury the man or woman desire is the Seiko. The Seiko watches are very special in design. Whether a high degree of accuracy, date indicators far into the future, water resistance, sapphire glass or temperature resistance, the Seiko watches convince with the highest standards of quality and functionality. The Seiko Chronograph Quartz Tachymeter SSB241 SSB241P1 SSB241P Men's Watch is one such watch.
It is versatile in style; watch provides a lot of complexity and styling in an affordable and incredibly versatile package. It has a Stainless Steel Case fastened with a Stainless Steel Bracelet. The Black Dial which is well protected with a Hardlex Crystal features an active Date Display. The timepiece works on the Quartz Movement with a Caliber 8T63; meanwhile the Luminous Hands and Indices adds the style content to the watch on Skeleton Silver Tone Hands. Technologically it is not behind while keeping the style on the other hand. It features a Chronograph Function with a Tachymeter Scale. The water resistance of the watch is 100 MM and it is bound to wrist with a Deployment Clasp having a Solid Case Back.
The Seiko SSB241P1 is an incredible watch, for its styling and for its value. In many ways, it really epitomizes what Seiko is all about: it's a watch you can afford, a watch that's beautifully made, and a watch that you'll want to wear, a large and sporty men's watch to wear at any time.