An Orient Company has a very occupying history in the world. Orient Watch always brings out long lasting watches with affordable prices. Orient company produces various types of watches for men and women. One of the latest and lovely watches in orient is Orient Classic Sun & Moon Automatic RA-AS0002B00B Men's Watch. This is built by using the latest technology in mechanical watch-making. Orient Watch can ensure that the quality of their wristwatches are held to the highest standards— Orient's watches have often been lauded for their rich styling, reliability, robustness, and tremendous value.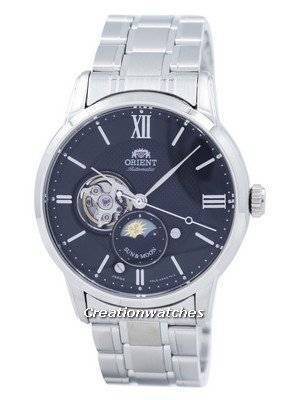 The Orient Classic Sun & Moon Automatic Watch is a true dressy classic with a typical Orient twist. The dial has several elements and textures to create stylish dial with enough going on, without being busy. It features everything you may wish for.
The Orient Classic Sun & Moon Automatic watch exceptionally well executed and styled. The watch has Stainless Steel Case fastened with Stainless Steel Bracelet. The Automatic movement watch has F6L24 calibre. The Black Dial of watch protected with Sapphire Crystal. The 22 Jewels watch has Analog Display. Which give attractive look to watch. The watch also has Deployment Clasp with See through Case Back. The water resistance of watch is 50 M.
The reason of its classy look this timepieces is been most wanted in all age group person. Orient watches are providing quality as well high featured technology too. After presuming this, you will really feel like so ease, if you ever wish to purchase some classic and automatic Watches don't miss this Orient Classic Sun & Moon Automatic watch. It will be the best for you. All the qualities are beautifully patched up in this watch you can use it.