Orient Watch can ensure that the quality of their wristwatches are held to the highest standards— Orient's watches have often been lauded for their rich styling, reliability, robustness, and tremendous value. They are decidedly distinct in their quality and technology. Orient prides itself on the premise that its timepieces are a "watchmaker's watch".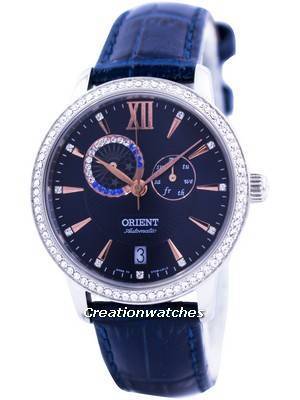 Orient has been providing the world with unique and distinctive timepieces. Now they have come up with an Orient Automatic Swarovski Crystal SET0W002D0 ET0W002D Women's Watch. Its impressive appearance is borne out of a large case and a feminine dial; the Orient Automatic Swarovski Crystal mechanical watches for women are presented not just to pursue mere beauty but an outstanding elegance that matches every outfit for every occasion. It is made to elevate style and provide a wider variety of options for coordination, making it truly enjoyable both as a casual or a dress wear.
The watch is fastened with a Navy Blue Leather Strap to the Stainless Steel Case. It's Bezel and markers are embedded with the Swarovski Crystal providing it an elegance beautiful appearance with a Blue Dial which is protected with a Sapphire Crystal. The 21 Jewels watch with a Caliber: 46B45 possess the Automatic Movement. It also features Date Indicator with Day Sub-Dial and also Day/Night Indicator at 10 O'clock. The watch have water resistance up to 30 MM.


The implicit value of possessing an Orient watch is that the only way to enjoy its tremendous quality is through ownership. No doubt you are bound to be enticed by it.