The Movado philosophy remains as valid today as it was earlier, Excellence in design, a dedication to Swiss craftsmanship, and the quest for technological innovation. All Movado watches are distinguished by a legacy of design innovation and a dedication to the future of time. Movado, one of the most celebrated watch brands in the world, traces its origins from the past. Movado, a word which means, "always in motion", so does the watches. Throughout its history, Movado has maintained its place at the pinnacle of innovation and excellence in design, craftsmanship and technology. Movado watches are crafted by highly-skilled watchmakers to meet the exacting standards of Swiss time technology. They are accurate to within seconds a year. The art of Movado is the art of design.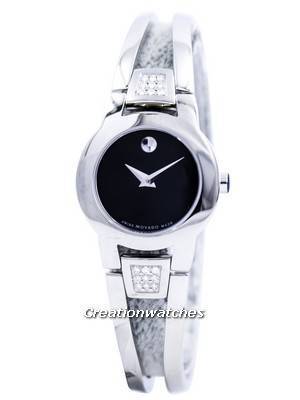 The elegant simplicity of Movado's signature Museum dial is highlighted in this Movado Amorosa Swiss Made Quartz Diamonds 0604982 Women's Watch, sleek and versatile timepiece from Movado's Amorosa series. This watch features a round black dial with silver-tone Dauphine hands and a concave dot marker at the twelve o'clock position. This is the minimalist look made famous for Movado. The design was intended to be evocative of a sun dial, with the dot representing the sun at high noon, the Museum Watch dial is regarded as an icon of Modernism. The dial is housed in a silver-tone stainless steel case, and it is framed by a perfectly round silver-tone steel bezel. The watch presents on a beautiful polished steel bangle bracelet accented with 18 small round diamonds. The bracelet fastens with a jewelry-clasp. Other notable features include a scratch-resistant sapphire crystal and precise Swiss quartz movement. The Water-resistant is to 30 meters.
The Movado Amorosa is both sleek and chic, its Contemporary bangle-style with smoothly sculpted lines complimenting every bit the choice of the modern woman. Stylistically flexible enough to go with just any kind of outfit, it is all about clean lines enfold and bring out the classic bangle style watches for women. In fewer words, consider the Amorosa a perfect, elegant accessory that will fit just any occasion. The perfect watch which doesn't scream "LOOK AT ME", but it doesn't just sit there and not get noticed. It's just a stunning timepiece.