Marc Jacobs are for the young, the lively and the cheeky. It brings that bold forwardness at the forefront, encased in a subtle vintage aura and in a chic design format that combines practical styles within an urban-friendly form. If you are too conscious or unsure of any style that you would like to follow, Marc Jacobs Watches can lift your spirits up again with an affordable price range. It is ideally suited for anyone. Every Marc Jacobs Watch is coveted to match up the seasonal fashion; such is their charm, wearable with the finest of clothing.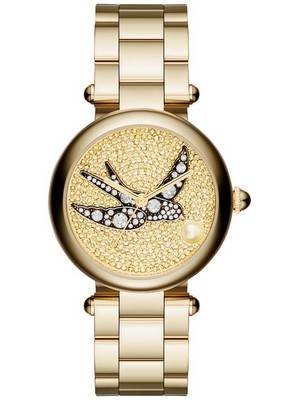 Distinctively different, The Marc Jacobs Dotty Crystal Pave Quartz MJ3498 Women's Watch is the women classy wardrobe timepiece no women can deny. Now, the retro-inspired cool looks are lovelier and more offbeat, making them even more covetable to those who are conscious about their respective, personal styles, the look of the watch is more relaxed, more luxurious and more contemporary.
A vintage jewelry-inspired crystal-studded sparrow flies across the pave crystal-studded dial of the Marc Jacobs Dotty watch, accented by a cabochon pearl at the four o'clock index. A Gold Tone Stainless Steel Case and Gold Tone Stainless Steel Bracelet with rounded links and Gold Tone Crystal Pave Bird Motif Dial complete the look of the designer watch. The dial is well protected with a Mineral Crystal. It carries the Quartz Movement and the water resistance of the watch is 50 mm. The Solid Case Back watch is also have a Pull/Push Crown and the watch have Gold Tone Hands.
The Dotty Crystal rests nicely on the wrist. It presents itself well and adds to just about any outfit it's paired with. The well designer is a fantastic looking timepiece; it offers fair value for its price. For an everyday wearable and versatile quartz watch, the Marc Jacobs Dotty Crystal Pave fits the bill nicely. Its minimalist styling means it can pair with just about anything and above all its worthy to have a designer look paired with anything your wardrobe carries.