Once upon a time, watches were used just to tell time. But today, we have clocks everywhere and all of us have mobiles or tablets; we don't necessarily require wristwatches to read the time. They have become fashion accessories. Watches are one of the first things that people notice about you. Your ensemble is incomplete without them. The moment you adorn your wrist with a stylish watch whether you want to flaunt the look of a hard-headed professional, a style diva or a party animal, women's watches are available in so many different styles. You could choose different varieties to match your different outfits and suit various occasions. But when you have to pick a watch for yourself, you have to keep certain things in mind – your personality, your outfit and the occasion. If your watch does not blend in with the rest of your ensemble, it will ruin your look. Likewise, you cannot wear a sports watch to a party.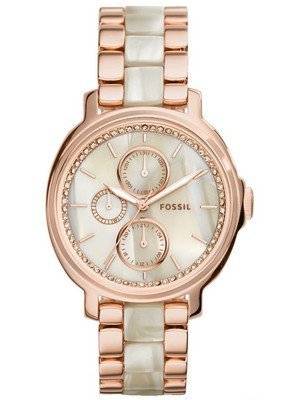 By noticing or we can say in other words that by keeping as well as based on observing all these things Fossil produces one of the beautiful that fulfill all requirements on Women's and named it Fossil Chelsey Quartz Rose Gold Stainless Steel ES3890 Women's Watch. This watch is specially designed for women's. This watch is made up of Rose Gold-Tone Stainless Steel Case and it has Rose Gold-Tone Stainless Steel Bracelet With Horn Acetate Center Links. That makes the watch more beautiful. It also having Scratch Resistant Mineral Crystal due to this feature you don't need to be worry regarding Scratches. It has Rose Gold Stainless Steel Bezel with Day And Date Sub Dial. It has 50M Water Resistance. This Fossil Watch having Quartz Movement . It means the watch works on battery so if you get any problem regarding watch in future then you can change the battery of the watch in small price without wasting more money on watch.
Take all these factors into consideration before picking a watch for yourself. You will be satisfied with this product once you wear it.