Citizen watch is the first company to work with IBM Research to enhance current features and develop new application technologies for the intelligent watch. Citizen Watch will explore the possibility of commercializing next-generation watches as communication devices in the future. Now Citizen Company produces one of the beautiful Watches and named it Citizen Eco-Drive Silhouette Crystal FD2042-51P Women's Watch. Citizen Watches really have a good reputation in watch making industry. They are truly special; they always offer unique combinations of designs and art technologies.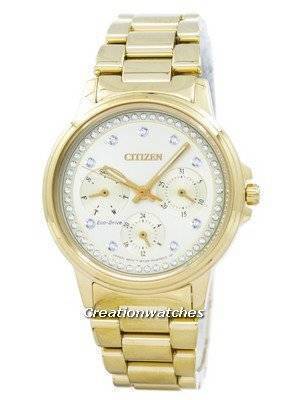 CITIZEN has promoted a multi-cultural mind-set that fosters excellence and creativity. Citizen has staked out a new position as the leader in Ecologically Friendly timekeeping with its Eco-Drive collection of light powered watches. Citizen watches continues to push their useful and cool watches to the market that is actually an improvised version of the model. Citizen has now gone high-tech with a new line of solar powered wristwatches. These new Eco-Drive watches will never need to have the battery replaced. And they come in a wide variety of styles for both men and women.
This Citizen watch has several features which makes it different from other watches. It has Gold Tone Stainless Steel Case with Gold Tone Stainless Steel Bracelet which makes the watch more attractive. The White/Champagne Dial very finely designed and has good pattern. The pattern on the dial is improving its readability in association with Luminous Hands. This Women's watch is also having 24 Hours Display with Swarovski Diamond Dial Markers. The most important features of the watch are Day and Date Display along with Analog Display it always helps you to be aware regarding date and protected with Mineral Crystal. This Citizen Eco-Drive Movement Watch having 8729 calibre. The watch also has Pull/Push Crown with Deployment Clasp. Water Resistance of this watch is 50 M.
When it comes to watches more specifically, the movement grabs all the attention when it comes to term it with the Techies. The Citizen Eco-Drive Series watch that uses a rechargeable battery, so you don't have to worry about replacing old batteries. The watch offers all the functions one can ask for in a timepiece. The attractive watch which is reliable and it will survive your sport or outdoor activities.