Citizen is a very fine and best watch maker company ever. Citizen is known for creating one of the most finely crafted and accurate watches ever made. There are very few things that a watch buyer needs to know about Citizen. This Company is producing the wonderful watch with new technique and characteristics. If you want to keep something different on your wrist then try this Eco Drive watch. Now Citizen has produced one of the beautiful watch is known as Citizen Chandler Eco-Drive Analog GA1039-53E Women's Watch. This Citizen Eco-Drive watch is specially designed for women's by keeping in mind all the requirements of women's.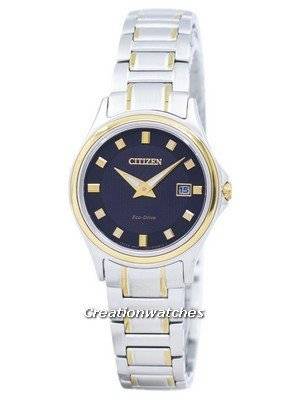 This citizen Chandler combination watch can showing the time in 30 cities of the world with a simple operation. In addition to the time displayed in the analogue section, the times in 30 cities can be displayed in analogue and digital can easily be switched. This watch is a useful tool for various purposes, such as on the international business scene and when travelling. The Citizen Chandler is one of Citizen's Eco Drive watches, top-of-the-line timepieces whose distinguishing feature is using light as a power source.
This Citizen Chandler Eco-Drive Analog GA1039-53E Women's Watch has many of features that will attract you to buy this watch is uniquely covered with Stainless Steel Case and Two Tone Stainless Steel Bracelet . This watch have black dial protected with Mineral Crystal which give different look to the watch. This Citizen Watch has Eco-Drive Movement with J015 calibre. This watch have Luminous Hands and Analog Display along with Date Display. The watch also has Pull/Push Crown and Deployment Clasp. The water resistance of the watch is 100 M.
The citizen watch ensures that you are always on time, no matter where your journey takes you. Citizen watch company has been a fulfilling the customer's wishes with watches. Citizen is producing more categories and spreading collections. This citizen watch is a lovely timepiece. It has all the unique features & function.