The Casio PRG also study 270D is not only near-irresistible with its masculine, yet classy and stylish looks, but, precise and very reliable. It is a very handsome and all-around quality, than having a lot of different features. They are technologically advanced and equipped with functions that meet the requirements of all kinds of sports and all kinds of people.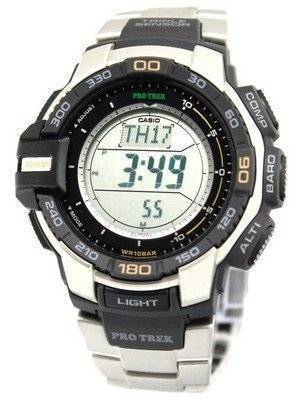 This Casio Protrek Tough Solar Triple Sensor PRG-270D-7 Men's Watch have lot of feature which is definitely attract to anyone. The case of this Casio watch made in Resin and Band is made in Stainless Steel. It has Triple Sensor (Compass, Barometer/Thermometer, Altimeter) , Tough Solar, Low Temperature Resistant, Triple Sensor: Compass, Barometer/Thermometer, Altimeter, World Time – 31 Time Zones, 1/10-Second Stopwatch, Countdown Timer, 5 Independent Daily Alarms, Hourly Time Signal, Battery Level Indicator, Power Saving, Full Auto-Calendar (To Year 2099), 12/24-Hour Format, Button Operation Tone On/Off, Regular Timekeeping, Accuracy: ±15 Seconds Per Month, 3 Fold Clasp and most sunning feature is Sunrise, Sunset Time Display in this watch. Case size of this watch is 54.6 × 52.4 × 14.4mm.
This Casio PRG-270D-7 Men's watch has 100M Water Resistance. This level of water resistance will allow a watch to be worn around household sinks, while playing sports and while swimming, poolside diving or snorkeling. Do not wear it while scuba diving. This watch is one of the best Casio watch. This timepiece has much more features; you can see. Casio always offers affordable and unique watches.