Casio was one of the earliest manufacturers of quartz watches, both digital and analog. It was one of the first manufacturers of watches that could display the time in many different time zones and of watches with temperature, atmospheric-pressure, altitude, and even Global Positioning System displays.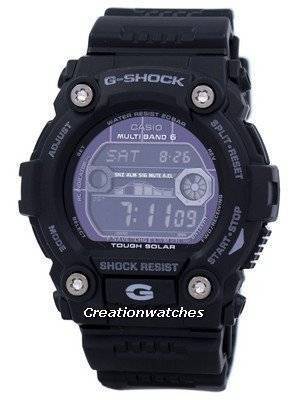 This time Casio G-Shock Multi Band 6 Tough Solar Digital GW-7900-1ER Men's Watch, A Highly fashionable and classy Tough Solar Power watch with Resin Case. With this product on your wrist, the world will be within your grasp. The kind of features packed in this little device will blow your mind. Never before would you have seen such kind of features in a simple wrist watch. The most important features are Countdown Timer and Digital Display which makes watch more attractive.
The Casio G-Shock Multi Band 6 Tough Solar Digital GW-7900-1ER Men's Watch is water resistant up to 200 meters. Which means you can easily sport this masterpiece while you're off for a swim or even as you're enjoying the monsoon rains. The Watch has Day and Date Display and Buckle Clasp.
The Resin Strap of this watch is made of high grade for a long lasting. The dial itself is covered by a Mineral Crystal which is highly durable. So now you don't have to worry about bumping your watch at those nasty corners. The watch has Shock Resistant and Alarm Function.
The watch practically is worn for any occasion. Be it formal or casual. If you are looking for one, grab this one which will complement your look.