The history of Seiko is the story of innovation. Thanks to a continuous stream of industry-leading innovations over the decades, Seiko established and has maintained its position as a world leader in the technology of time. Seiko set the global standard, and today, most quartz watches use the system Seiko developed. Seiko provides a Joy and pride about owning a Seiko watch and additionally a little the charm.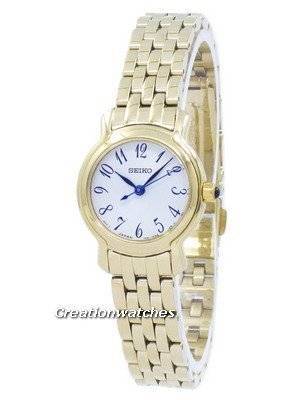 A watch that goes with time and offers every luxury the man or woman desire is the Seiko. The Seiko watches are very special in design. Whether a high degree of accuracy, date indicators far into the future, water resistance, Hardlex Crystal, the Seiko watches convince with the highest standards of quality and functionality. The Seiko Quartz SXGP64 SXGP64P1 SXGP64P Women's Watch is one such watch. The newest member of SEIKO's leading dress watch collection is a Premier design with all the regalia in subtle doses. Classical, reverential and restrained, its boldness is simply eye-catching!
It is versatile in style; watch provides a lot of complexity and styling in an affordable and incredibly versatile package. It has a Gold Tone Stainless Steel Case fastened with a Gold Tone Stainless Steel Bracelet. The Silver/White Dial which is well protected with a Hardlex Crystal. The timepiece works on the Quartz Movement with a Calibre 1N01. The watch has Analog Display with Pull/Push Crown add the style content to the watch. Technologically it is not behind while keeping the style on the other hand. The water resistance of the watch is 50 M and it is bound to wrist with a Deployment Clasp having a Solid Case Back.
Where classicism and modernity meet, drawing inspiration from the world of architecture to create a dress watch that embraces the very latest technology and design. The watch is a Classic inspiration with a hint of Modern expression.