The Seiko brand has been synonymous with precision watch engineering for over a century, with a series of firsts including the first production quartz watch, quartz chronograph and kinetic watch. Seiko today produces a range of accurate, stylish watches for every occasion, maintaining the original reputation for excellence and reliability. In fact, the accuracy of Seiko has led to the brand being the official timekeepers for various professional. The Seiko timepiece collection features the iconic logo across a multitude of designs, from chunky masculine watches to futuristic technological designs, slim and delicate ladies' bands to sparkling fashion pieces and much more.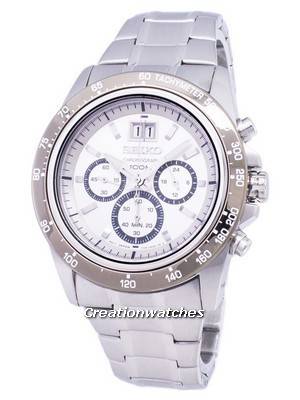 The Seiko Lord Chronograph likely stands out as a real surprise. It's a simple looking dress watch that's attractive enough, but it's a case where there's a lot more than meets the eye. Seiko Chronograph Quartz watches with their often elegant and timeless designs, this chronograph manage to achieve something that most battery-powered watches. The Seiko watches convince with the highest standards of quality and functionality. The Seiko Lord Chronograph Quartz SPC241 SPC241P1 SPC241P Men's Watch is one such watch.
The new Seiko Lord Chronograph Quartz Spirit will make better daily-wear timepieces. The case for the watch is coated in Stainless Steel and fastened with Stainless Steel Bracelet. The Quartz movement watch working on 7T04 calibre. The White Dial watch having Date as well as Analog display and protected with Hardlex Crystal. The Chronograph watch has Luminous Hands and Markers as well as Tachymeter Scale. These features make watch different from other watches. The watch also having Pull/Push Crown, Solid Case Back along with Deployment Clasp. The watch has 100 M water resistance.
The Seiko Lord Chronograph Quartz SPC241P1 is an incredible watch, for its styling and for its value. In many ways, it really epitomizes what Seiko is all about: it's a watch you can afford, a watch that's beautifully made, and a watch that you'll want to wear at any time.