Seiko believes that the wristwatch is an intimate accessory. The best watches live in harmony and interact with the wearer, and their functions offer a reassuring and emotionally satisfying bond. SEIKO's technological development is focused on the creation of 'emotional technologies. Emotional technology creates the interaction between the wearer and the product.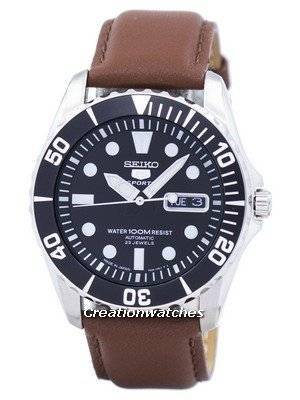 A solid construction that doesn't compromise on aesthetics, The Seiko 5 Sports Automatic 23 Jewels Ratio Brown Leather SNZF17J1-LS12 Men's Watch is no less. This is a watch that's not hefty beyond requirement, neither light enough to be considered flimsy. It is a watch that's built to last a lifetime, which many of the other top of the line models will fail to be. It's just built as good – if not better – than the pro-level wrist wears and it easily qualifies as a true, superior and rugged timepiece in its every sense!
This men's watch has a Stainless Steel Case with High Quality Ratio Brand Brown Leather Strap which makes watch more attractive. The Black Dial watch protected with Hardlex Crystal. It has a Unidirectional Rotating Bezel with 23 Jewels and Luminous Hands and Marker. The Automatic Movement watch has a Caliber 7S36.The Made in Japan watch has Day and Date Display. It also features see through Case Back along with Buckle Clasp. The Water Resistance of the watch is 100 M.
It's hard to argue with a good Seiko. Affordable, well-built and cool looking; it sort of define value. Seiko Automatic watch is a watch which completely complement the attire you wear. The watch is packed with features, looks wild and is a Sports Automatic. What more one can ask for?