Orient Watch believes that customers satisfactions which can make a development. The Orient watches are watches that have a watch-making lineage. After All Orient Company is known for their watches quality, accuracy and great time pieces. An orient watch supplies high quality, more style of watches. Orient Watch has continued to develop wrist watches (automatic / mechanical watches).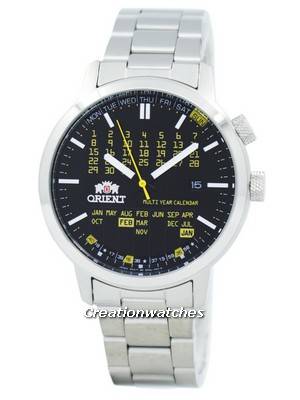 This orient FER2L002B0 men's watch is one of the unique pieces from Orient. An Orient Company has a very occupying history in the world. Orient Watch always brings out long lasting watches with affordable prices. This Orient Stylish and Smart Multi-Year Calendar FER2L002B0 ER2L002B Men's watch have some important features that makes the watch more beautiful and attractive. This Orient men's watch have Stainless Steel Case As well Stainless Steel Bracelet. This watch has Mechanical movement. The caliber of the watch is 48743 and 21 Jewels. Most Important feature of this watch is its Mechanical Movement. It also has Mineral glass to protect the dial. The dial color of the watch is Black. Due to these features the watch looks more beautiful. It also has Multi Year Calendar and it has see-through Case Back in it. The water resistance of the watch is 50 mm.
The reason of its classy look this timepieces is been most wanted in all age group person. Orient watches are providing quality as well high featured technology too. After presuming this, you will really feel like so ease, if you ever wish to purchase some classic and mechanical Watches don't miss this orient timepiece. All the qualities are beautifully patched up in this watch to use.