Orient is a very fine and best watch maker company ever. Orient is known for creating one of the most finely crafted and accurate watches ever made. There are very few things that a watch buyer needs to know about Orient. This Company is producing the wonderful watch with new technique and characteristics. If you want to keep something different on your wrist then try this Automatic watch. Orient always tries to produce new designs along with new technology. The Orient "President" Classic Automatic Diamond Accent EV0J001G Men's Watch is one of the examples of innovative ideas of Orient.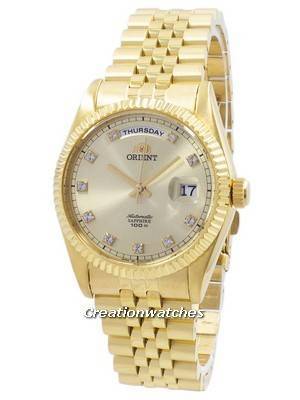 Orient is a great way to get your wrist accustomed to the idea of wearing dress watches – whether you need a dress watch for a specific event, or for your job, or just want to see what it's like to wear one… and they won't break the bank. Orient always offers a wide selection of dressier options. This Orient Men's watch has several features which make it different from others.
The Orient "President" Classic Automatic Diamond Accent Men's Watch comes with Gold Tone Stainless Steel Case with Gold Tone Stainless Steel Bracelet. Automatic Movement makes the watch more perfect. An automatic or self-winding watch is a mechanical watch in which the mainspring is wound automatically as a result of natural motion of the wearer's arm, to provide energy to run the watch, making manual winding unnecessary. Orient Automatic watch having Champagne/Gold Dial with Domed Sapphire Crystal which gives the watch amazing and more elegant look. Day and Date Display feature in this watch always helps you to aware regarding day and date. The 21 Jewels watch has Crystals on Dial Markers with Analog Display due to these feature watch look different than other models. The watch also has Screw down Crown with Solid Case Back as well as Fold over Clasp. The water resistance of watch is 100 M.
Orient watches are providing quality as well high featured technology too. After presuming this, you will really feel like so ease, if you ever wish to purchase some classic and Automatic Watches don't miss this orient timepiece.