Orient watches have big range of orient sports watches, divers watches, skeleton watches, men's and women's watches. Those existing categories are orient watches include some best watch collections, one of this as Orient Automatic FAL00006W0 Men's Watch.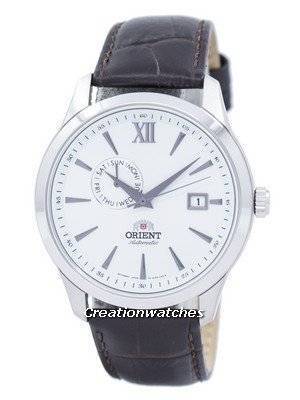 The Orient Company has a very occupying history in the world. Orient Watches primarily focus on Automatic movements. This orient Automatic FAL00006W0 men's watch is one of the unique pieces from Orient. Orient always tries to provide us several amazing as well attractive watches that satisfy watch lovers. Orient Automatic watches are known all over the world. An orient Automatic watch has supply high quality, more style and types of watches. Orient Automatic Watch has continued to develop and arise wrist watches.
The Orient Automatic Men's Watch is one such sophisticated design with Stainless Steel Case fastened with Leather Strap. The design of the Automatic movement watch is a very fine one, offering a Silver/White Dial protected with Mineral Crystal and give different look to watch. Orient Automatic FAL00006W0 Men's Watch is an excellent watch with Analog Display and See through Case Back which gives a stunning look to the watch. The watch has Day and Date Display which makes more user friendly to watch. Another important feature of the watch is its Water Resistance which is 50 M and also the watch is secure to the wrist with a Buckle Clasp.
For them who are looking for a certain class without spending a ton, then this watch will be a perfect choice. This watch has everything you could wish for.