Women's timepieces are great for formal occasions. Pretty with its precious stone settings, the Ritz is undeniably feminine and strikes right away with its classic shape. A timeless style with modern pave accents, the shine comes complete with embellishments around the bezel and the face. A dazzling piece to imbue a sense of glam to your every dressing style. Make way for some sparkle in your everyday life.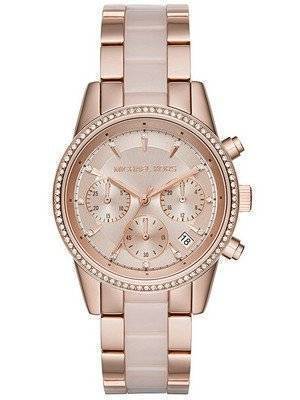 Michael Kors watches are very popular consumer items – they are visually beautiful and efficient timepieces. Michael Kors Ritz Chronograph Quartz Crystal Accent MK6307 Women's Watch is versatile timepieces. Ladies watches either have a circular face or a square face. It's depends on you, what kind of face you would like to buy. This watch has a chronograph function. A chronograph watch is like a standard timepiece which has specific dials that can measure second, minute and hour intervals. The Chronograph is a device which is used for evaluating and recording the time interval. The example of the chronograph function is a stopwatch function which can be used for measuring and recording a small interval of time. A Chronograph Watch is more useful at the time of playing any sports activity. The advantages of the chronograph watch are that they store and keep the time in more than one way simultaneously. That means using the chronograph function we can save the time.
The glass is mounted on the face of this chronograph women's watch is Mineral Crystal. The watch has Gold Rose Tone Stainless Steel Case as well as Two Tone Stainless Steel Bracelet with Quartz Movement. Most Attractive part of this watch is it Rose Gold Tone Dial which shows looks awesome. This watch has Deployment Clasp and Date Display. The water resistance of this Chronograph MK6307 watch is 50M and Pull/Push Crown. A watch having Crystal Index Hour Markers and Fixed Rose Gold Tone Bezel Set with Crystal Accents.
Today everyone likes to be the owner of some stylish or classic watches by Michael Kors.