In modern days we used to talk about the fashion and we want to be a part of fashion and go with the way of fashion and fashion can't imagine without fashionable, sleek, and beautiful watches and for this trend watch lover running to Michael Kors fashion watches. Michael Kors is a fashion brand making clothing and accessories for both men and women. Their watches are stylish and cool on one hand and classic and elegant on the other. The watch reviews and comparison list is based on the popularity of the watches.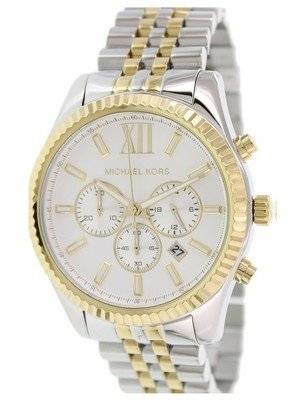 Designed with the aspirational man in mind, our Lexington watch brings sleek and streamlined to a whole new level. The blazing gold-tone stainless steel bezel and two tone bracelet strap provide tactile texture, while the date function and chronograph dials complete a dynamic piece. Whether you're wearing it in route to a business meeting or boarding a flight to the Maldives, the effect is refined for all manner of occasions. It's a crazy watch! Just when you thought modern manufacturing technology and high-level quality control made watches too plastic by nature, the Lexington Chrono jumps in to twist the whole concept of affordable quality into the warm lap of luxury. It's far from being a ridiculous oxymoron to a tech-oriented daily wear and the luxury does not overwhelm the daily use.
Glamorous and sophisticated, this elegant Michael Kors Lexington Chronograph MK8344 Men's Watch combines Stainless Steel Case fastened with two-tone bracelet as well as it has White dial come style all around your wrist. The Mineral Crystal form a sophisticated outline touch to this Michael Kors Lexington watch; they kind of illuminate the sleek Gold tone bezel. The Quartz Movement watch has Chronograph Function with Three Sub-dial 60 Second, 30 Minute and 24 Hour. The watch has Date Display and Deployment Clasp as well as Solid Case Back. The water resistance of watch is 100 M.
Michael Kors watches are the watches which make room for a stylish addition to a smart suit or even semi-casual evening wear. All the designs are one of the most popular on the market.