Michael Kors watch has the ability to fulfill need of new style and trend. In early day every woman's wants to improve our style and manner, Watches are the best selections to change our way. This Michael Kors Watch is especially attracts the young generation. Women's wrist watch says about your personality and shows your sense of style. Michael Kors is the best brand for women's for buying a suitable watch with suitable and new style watch.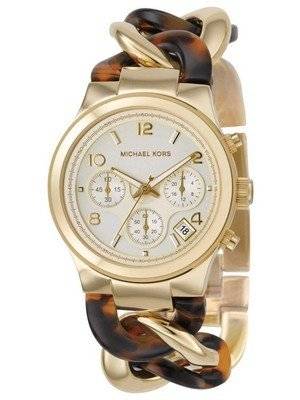 Michael Kors MK4222 Womens Watch is very comfortable and they suit different life styles. The case of Michael Kors MK4222 is made up stainless steel and the bracelet of this watch is made up Steel and Tortoise Acrylic. The watch has Quartz Movement, Mineral Crystal, Chronograph Function, Fancy Clasp, Date Display and the most attractive thing in this Michael Kors Ladies is its bright white dial. White dial of this watch has very clear hours. This makes watch reading easy. The Convex Crystal is placed over the case. The Circular case of this watch has the approximate Diameter 38 mm. The most impressive thing in Michael Kors watch is stylish design in the case this gives watch a unique look. This Michael Kors has 30 meter water resistant. Means you don't need to remove this watch while working with water. You can do the hand wash without worrying about this watch.
It is having a very beautiful design with the colour combination of White and golden rose.