Fossil watches are wonderfully designed and are built to last for a considerable period of time. The brand is famous for its impeccable quality and reliable craftsmanship. The hallmark of Fossil watches is a fresh, modern approach. Fashion-conscious people who insist on the most trendy and modern watches regularly turn to Fossil timepieces. At the same time, quality is never sacrificed in order to give Fossil watches their modern flair; the timeless elements of a well-constructed watch are all used for each and every Fossil piece.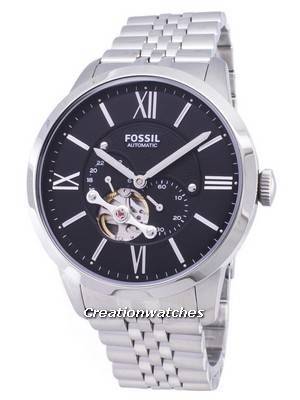 The bright colors, sleek metallic hues, compelling lines and exciting faces and dials of Fossil watches all come together to create a look that is truly exquisite. Despite their alluring and attractive style, though, Fossil watches won't break the bank. With Fossil, it's possible to adorn your wrist with a designer watch that you can be proud to wear – all at a sensible price.
Fossil Townsman Automatic Skeleton ME3107 Men's Watch is one such design of fossil which boasts the name of the brand. The Black Dial watch with a Skeleton Window is fastened with a Stainless Steel Bracelet. The Stainless Steel Case of the watch is remarkable with a Mineral Crystal and to take it into a new different level, the Silver Tone Hands and Markers are there. The technical aspect of the watch which makes the watch a worthy one is its Mechanical Automatic Movement. The See through Case Back is one such feature which cannot be ignored and also it has a water Resistance 50 MM.
If you are looking for a finely crafted watch that is functional, elegant, durable, accurate and affordable; this fossil Townsman ME3107 is for you. It is a watch of a brand which creates in our mind an image of reliability.