It depends on the individual and how he perceives any brand for that matter. For some, A watch is just a watch. It tells you the time and that's all they need to know. But for some, A watch is a fashion statement and an accessory. It's also where your grandpa, dad leaves you one as a remembrance of him and his time and legacy. Also signals your status in the society and your achievements. Now coming back to fossil, It is an entry level watch brand in the sea of branded watches. Fairly reliable and looks good too. But apart from that, It's nothing. All the expensive watches have complicated mechanisms, exceptionally good build quality and will last you for years to come. But Fossil is just, you know, Not that long lasting and all and comes with ordinary materials and quality.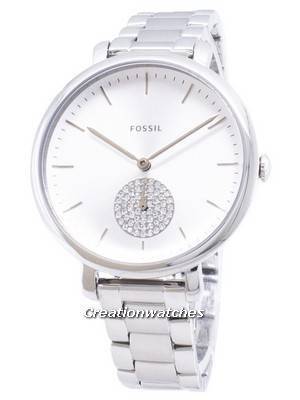 If your watch does not blend in with the rest of your ensemble, it will ruin your look. Likewise, you cannot wear a sports watch to a party. By noticing or we can say in other words that by keeping as well as based on observing all these things Fossil produces one of the beautiful that fulfill all requirements on Women's and named it.
Fossil Jacqueline ES4437 Quartz Analog Women's Watch. This watch is specially designed for women's. This watch is made up of Stainless Steel Case and it has Pull/Push Crown. That makes the watch more beautiful. It also having Scratch Resistant Mineral Crystal due to this feature you don't need to be worry regarding Scratches. It has Silver tone dial with crystal bezel with Analog Display this Silver Dial gives the watch amazing look, Solid Case Back and Deployment Clasp. It has 30M Water Resistance. This Fossil Women's Watch having Quartz Movement. It means the watch works on battery so if you get any problem regarding watch in future then you can change the battery of the watch in small price without wasting more money on watch.
Take all these factors into consideration before picking a watch for yourself. You will be satisfied with this product once you wear it. As a gift a Jacqueline Quartz Analog is trendy, fashionable, very well made and strong enough to go with you anywhere for years.