If one high-fashion brand is nearly peerless, it's Armani. This legendary brand has been on the top of the fashion game for decades and each piece is an iconic fashion statement, thanks to the combination of traditional watch design with contemporary trends. The Emporio Armani collection is infused with an understated sense of confidence, offering up classic watch styles imbued with heritage and enduring design. Emporio Armani is a line for men and women who lead a modern lifestyle and want to dress with a sense of casual sophistication. Emporio Armani watches reflect this approach with modern shapes and materials, balanced with a classic style.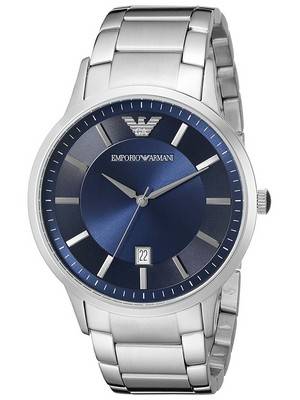 A diffusion line from iconic fashion house Armani, Emporio Armani offers timeless style with their collections of wearable classics. Emporio Armani is famed for its high octane designs, but if you can't stretch to the frocks, its hugely popular watch collections should be your next port of call. Exuding a classic sense of refinement, this sharp Emporio Armani men's watch, is an essential accessory for the contemporary, urban gent with a timeless sense of style. Boasting an exquisite design and high precision functionality, this watch is the perfect companion for the urban gentleman with a distinct sense of style.
A striking watch design from Emporio Armani, a finely crafted Emporio Armani Classic Quartz AR2477 Men's Watch made from stainless steel and has a large round case. A bold blue dial and Stainless Steel Bracelet delivers stylish simplicity and elegance. The model features a handsome blue dial with date function, silver baton hour markers and silver hands. It fastens with a Stainless Steel bracelet and is powered by a quality quartz movement. The AR2477 is a majestic and stylish wrist watch developed for men. This wrist watch has a wide variety of features. It is bright and beautiful. This watch has a bright and bold dial which is protected by Mineral Crystal and looks serene and peaceful in the color blue. It is an elegant and sophisticated wrist watch with a 50 mm water resistance. The watch is a state-of-the-art accessory for men.
The chunky, sporty feel of this classic Emporio Armani Men's Watch makes it a highly desirable timepiece. A classy and good-looking watch is a must-have in every man's wardrobe. The Emporio Armani collection of watches will provide men with a wide variety of watches to choose from.