CITIZEN has promoted a multi-cultural mind-set that fosters excellence and creativity. Citizen has staked out a new position as the leader in Ecologically Friendly timekeeping with its Eco-Drive collection of light powered watches. Citizen watches continues to push their useful and cool watches to the market that is actually an improvised version of the model. Citizen breaks the boundaries once again in satellite technology with the launch of the Satellite Wave-World Time. Citizen has now gone high-tech with a new line of solar powered wristwatches. These new Eco-Drive watches will never need to have the battery replaced. And they come in a wide variety of styles for both men and women.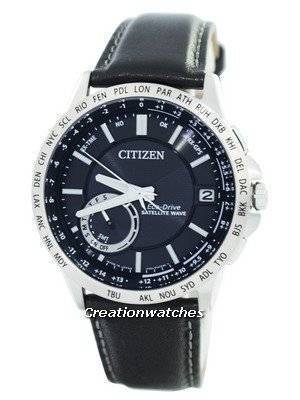 Earlier Citizen used a technology in their "GPS" watches that allowed the movements to receive GPS signals but the watches could not use the signal data to update the location of the watch. The wearer needed to select the time zone, and then the global positioning satellite data would be used to update the time and calendar information. The Citizen Eco-Drive Satellite Wave World Time Japan Made CC3001-01E Men's Watch is the watch which allows the watch to update the time zone, making it a real GPS watch. Some of the key talking points of this Japanese Eco-Drive (meaning that the battery is powered by light) movement are that it has Daylight Savings Time Function with a Satellite Timekeeping System, Also featuring Insufficient Charge Warning Function and Overcharge Prevention Function. The techs does not last here, it also have Light Level Indicator.
Other features of the GPS (Location Information Obtainment Function) signal-receiving movement are that it features the time and date on the dial, along with a day of the week indicator (it is actually a perpetual calendar). There is both a signal strength indicator and a power reserve indicator for the battery. The watch indicates the world time in up to 40 time zones and there is a daylight savings time indicator on the dial. Making amazed by how minimalist the Black dial is despite the watch doing all of that. The Dial of the watch is well protected with a Sapphire Crystal. The Watch is fastened with a Black Leather Strap and a Stainless Steel Case. It also features Luminous Hands and Markers with a 100 MM Water Resistance. The timepiece works on a Caliber F150.
When it comes to watches more specifically, the movement grabs all the attention when it comes to term it with the Techies. The Citizen Eco-Drive Series is a men's sports watch that uses a rechargeable battery, so you don't have to worry about replacing old batteries. The watch offers all the functions one can ask for in a timepiece. The attractive watch which is reliable and it will survive your sport or outdoor activities.