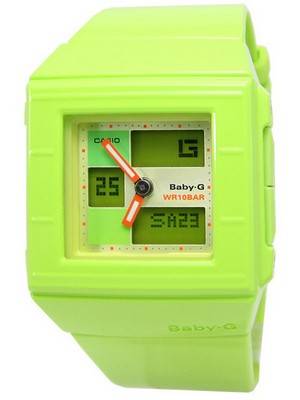 The Casio was established in April 1946. Casio has been known extremely huge variety and innovation of their timepieces almost since the beginning of production. There are specious brands are discovered by the Casio. The Casio is making customers needy timepieces. Now Casio is constructing the TOP-NOTCH timepieces and providing in market for sell. There are many models have constructed by Casio. The names are Casio Protrek, Casio Sea Pathfinder Watch, G-Shock Watch and Women's Baby-G Watches etc.
Casio Baby G watches are fashionable versions of Casio bestselling G Shock accumulation of tough and practical timepieces that's long been a favorite of uniformed personnel. A Casio Baby G Shock watch offers a lot more compact designs. Casio baby G wristwatches are direct at goal and these watches targeted at under age population analysis in a particular, marketed at much more fashionable timepieces growing to full fill the customer's needs. The Casio baby G brand is specially designed to increase the beauty of women's.
For example please look the good looking timepiece which is taken from the accumulation of the Casio watches. The Name of this watch is "Casio Baby-G Analog-Digital BGA-200-3E Womens Watch". This new analog digital new combination model is the latest additions to the rough and cute baby-g lineup. This model comes in five different colors. You can choose one or more among it. The Casio Baby-G BGA-200-3E has digital display window in the upper right corner of the face shows a graphic G symbol for playful touch. The color and pattern of this watch is such a nice. This timepiece has resin case and resin band. This is shock resistant timepiece. This Casio watch has LED Backlight so it will be good to see the time at night. World time function is also available in this watch. You can check the current time of others countries easily. This timepiece is very fruitful to gift to Lovers and friends.