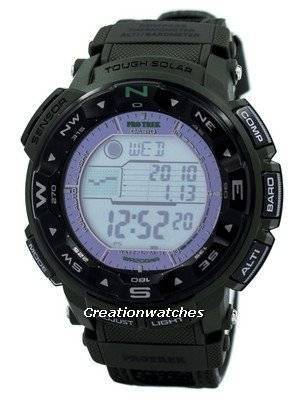 The Casio watches are well known as their superiority in market. The Casio was started 1946. From that time, this company is producing the fantastic timepieces for men and women. Now, there are various brands of Casio watches have constructed. If you want to make dashing himself. So look here…You will have a huge range of watches to choose from and a different variety that is available in the market or now can you get these watches via online. The Company Casio has constructed watches in many varieties. There are various brands are available now, which names are Baby-G Watches, G-Shock Watches, Waveceptor Watches, Casio Frogman, Casio Protrek Watches etc. All the brands of Casio have water resistant.
Let's, we will know about the Casio Portrek watch which is design by Casio. Look at this Casio Protrek Solar Power PRG-250B-3 Mens Watch. This watch has a resin case and resin band. This watch is solar powered. A solar-powered watch is a watch that is powered entirely or partly by a solar panel. This watch have a many features which is suitable in sport activity. You can see its structure which looks gorgeous and one thing is that, you will get this with much features.
Have a look another model of Casio watch which is taken from the large accumulation of the Casio watches. This is a Casio baby g shock BGA-124-1ADR Ladies watch. This watch has resin case and Stainless steel Composite Band. You can see all the features of this watch; it is also the nice timepiece among the Casio watches.