Seiko is one of the best watches making company which delivers luxuries and classy, watches throughout the world in some attractive manner. This company was established science 1946. Today Seiko men's watch has some impressively verities in watches like sporty or classically Seiko SNQ137P1 watch. This Seiko watches can be used in any condition or any session. There is some qualitative collection of Seiko. This type of watches might be attracting the youngster or elders.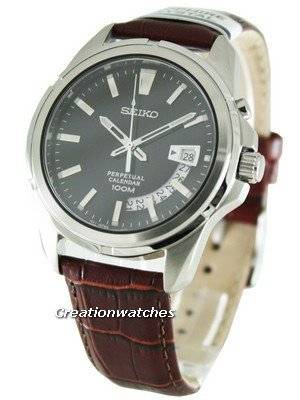 This Seiko watch has lots of existing features like Stainless Steel Case well-mannered Brown Leather, Strap Quartz Movement Perpetual Calendar (all the shorter months and leap years until the year 2100). Seiko watch has 100 mm Water Resistant. It will help you for sinking in water. This Seiko watches has Perpetual Calendar as well Seiko has Stainless Steel Case Diameter of 40mm and the Thickness of 10mm. It has Classically Sapphire Crystal or the Caliber of 6A32 and Quartz Movement. It means a movement in watch is making the mechanism that measures the passage of time and displays in each the current time of a minutes. It is totally usable timepiece. Seiko men's watches can intimate you period because, it has alarm feature so you can't be late. You are always in time everywhere.
Seiko watches have reputedly quality as well high technology. This type of Seiko Quartz Perpetual Calendar is demanded in everywhere because of its attractive quality and awesome features.