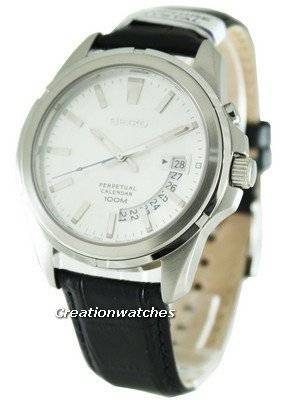 The Seiko is the greatest watch manufacturer company ever. This company was founded in 1881. The Seiko is arising for quality and performance. In the matter of its growth, this company always has been successfully in execution. Today, there are categories of model has created by Seiko. The Seiko quartz is one of the collections in Seiko watches. This is productive brand between the watch companies.
This Seiko timepiece has Stainless Steel Case and Black Leather Strap, Perpetual Calendar (months and leap years until the year 2100). Seiko watch has White Dial. It looks so decent an impressive. This Seiko watches has Quartz Movement. It means a movement in watch is making the mechanism that displays the current time. It is designed by Classically Sapphire Crystal or the Calibre of 6A32. It is so useful timepiece. It also has Date Display updates automatically each day. The 40 mm diameter / 10 mm thickness case is quite superb. Perfect watch for watch seekers who loves the watches and it's designed.
This watch is a great quartz watch it keeps time (compared to automatics). This type of Seiko Quartz Perpetual Calendar is so most wanted choices. Its good choice for those looking for not so big watches but very flexi and very affordable. If you wear these timepieces on your wrist then, surely you will fill the best to look its classic design. This will be the great choice for those who want to arise their personality.