The Japanese company Seiko has a graceful collection of watches along with attracted designs simply cool patterns. This Seiko Company is famed for the best materials are using to construct the Seiko watches. Seiko Company has been using unique technology to construct the different watches for both men and women. This Seiko Perpetual Calendar SNQ129P1 Men's Watch is one of them.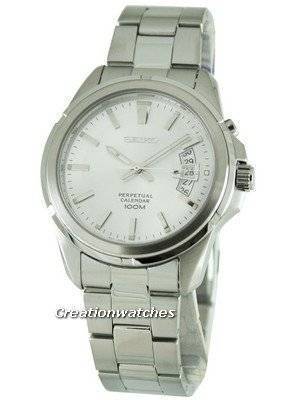 These Seiko timepieces come with both Stainless Steel Case and Stainless Steel Bracelet. The case and bracelet are made up of high-intensity titanium, and metal that is as strong as steel. Seiko SNQ129P1 Men's Watch has Quartz Movement with working Caliber: 6A32 and It has 100M watch resistant. There are nothing more to be told on Seiko's perpetual impressive calendar movements. When once you set the time, it frees you from the burden of making any further adjustments and takes care of itself. These Seiko timepieces come with Sapphire Crystal and Date Display. Have Folding Clasp with Safety Push-Button it will easy for handling.
Seiko watch Have a simply cool look on this timepiece: The Seiko Quartz Perpetual Calendar SNQ129P1 have everything which you want. This Seiko SNQ129P1 is simply beautiful watch. Have a lot of attracting features you can see clearly. This will be the best choice for those who want to make attractive their personality. After wearing this, very strong watch you will feel graceful and really the structure of Seiko Quartz perpetual watches attracts people.