The Seiko Company has a graceful collection of watches along with beautiful designs. Seiko has a fantastic design with the reliability of watches. Seiko watch has a real formal look which can attract someone who likes to wear some classical designs which suits on him. Seiko Company is produced fantastic watches.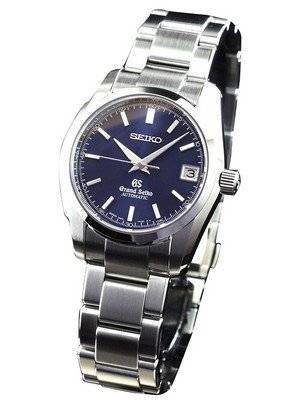 Seiko automatic SBGR073 is most wanted watches. Actually this Seiko watch is made in Japan. This Seiko grand SBGR0073 Specially modified with the awesome black dial and date display is also available of this watch. This Grand Seiko Automatic 72 Hours SBGR073 has some innovative features like Hack/With Hand-Winding, Sapphire with Non-Reflection Coating Crystal, Sea-Through Back, 35 Jewels, and Automatic Movement. This Seiko SBGR073 watch has Stainless Steel case as well bracelet. It is reserve's power up to 72hrs and amazing accuracy: of +5/-3 sec/day. This Seiko watch has 100m water resistance. This level of water resistance will allow a watch to be worn around household sinks, while playing sports and while swimming, poolside diving or snorkeling. The case diameter of this watch is 37mm and the thickness is 13.3mm. One of the best features of this watch is its calibre: "9S65".
This watch is fabulous watch, it gives you accurate time. These Seiko watch may look very intelligent as well very prestige. These Seiko Grand watches Mostly known for their accuracy and long battery. This will be the best choice for those who want to wear something professional.