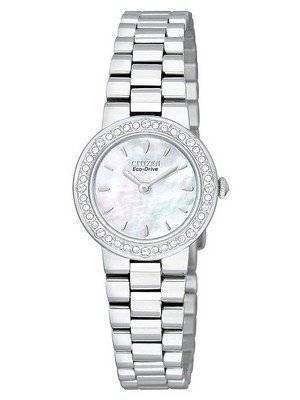 Citizen is known for making one of the most finely crafted and accurate watches ever made. There are very few things that a watch buyer needs to know about Citizen. Citizen Company Established almost a century ago, in 1918, Citizen is a Japanese company based in Tokyo. Although it was originally named "Shokosha Watch Research", in 1924 the brand has been renamed to "Citizen" and hasn't changed ever since.
Eco-Drive is a brand name owned by Citizen Watches. As the name recommend Eco-drive wristwatches are powered by light. Eco-Drive wrist watches never need a battery because these watches take light as the source for power. Eco-Drive watches are popularized in the market which is made by the Citizen Watch Company.
Citizen Eco-Drive runs regularly in any kind of natural or artificial light for a generation of use. Many of these watches feature crystal or diamonds or mother of pearl dials which just adds to their beauty and particularity.
Have a look on this watch Citizen Eco-Drive Swarovski Crystals EW9820-54D Womens Watch. Thispretty and glamour's watch is from the collection of Citizen Eco-Drive watches. This watch has Stainless Steel Case, Stainless Steel Bracelet, with Eco Drive Technology (Recharged by Any Light Source, No Need to Change Battery)and Japanese Quartz Movement. This timepiece has a much more features like, Mineral Crystal Glass, Mother of Pearl Dial, 12 Month Power Reserve, Push Button Jewelry Clasp, Swarovski Crystals, Analog Display, Low Charge Indicator,+/- and 15 Seconds Per Month Accuracy. Also the water resistant of this watch is up to 30m. The case diameter of this watch is up to 23mm and case thickness is up to 6.5m.