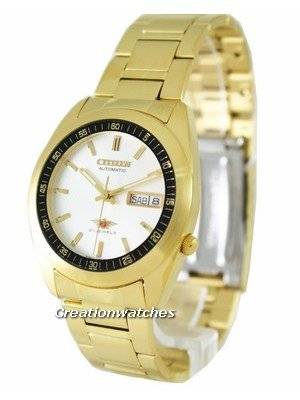 Automatic Watches are basically know to the another name to self-winding Watches which intends that you do not have to wind them because they functioned by the motion of your arm.Automatic watches have been around since the 1930's.
A mechanical watch which is neither self-winding nor electrically driven may be called a manual watch. Today many mechanical watches sold because of their good functionality. Fortunately; this type of watch does not need to be wound up every day as it contains a power reserve that provides enough energy to keep the watch accurately ticking for up to four days.
Citizen is one of the most admired watch brands in the world. Citizen watches are known for their constancy, quality and market price. Citizen produces many attractive Automatic watches. With its ability in watch-manufacturing, all the Citizen Automatic watches are of high quality and efficiency.
Look at this model, the Citizen Automatic NH8252-58B Mens Watch is here. This Automatic Mens watch has Golden Tone Stainless Steel Case and Golden Tone Stainless Steel Bracelet. This watch has White Dialwith golden hand which looks gorgeous. Everyone likes this model because of its beauty. One of most important feature of this timepiece is that it has Automatic Movement.Also, this watchhas 21 Jewels and Crystal Glass. This watch has Date and Day facility. You can check current day and date at 3 O'clock Position. This timepiece has water resistant which is very good for swimmer. The case diameter of this watch is up to 36mm and case thickness is up to 10mm.